Upholstery damages usually make an item look old and unkempt, and you may even be thinking of kicking it out all together. But not so fast! There are a number of relatively simple procedures that you can undertake to restore your furniture. The first step is to purchase a DIY (Do It Yourself) kit which contains all the required materials of upholstery repair.
The easiest to repair is cloth upholstery. This should be carried out as soon as it occurs to prevent any further damage. Minor tears can be mended by sewing with needle and thread. A matching color of thread is recommendable to make the repaired spot as inconspicuous as possible. Remove the cushion covers slightly to form a slack in the material allowing you to sew. You can also create a slack by squeezing the fabric together with clamps.
If patching is required, use pieces of excess material taken from the furniture's underside or the side of the cushion. Speaking of the cushion, it can easily be removed from the chair frame to make the process easier. Short, close stitches work best in holding the fabric together. Finally, trim off any hanging thread for a neat finish.
Major tears can be catered for by the DIY cloth upholstery repair kit. It contains several pieces of fabric that are neutral in color, and a clear adhesive. For optimal results, trim the torn area into an oval shape so that it's less noticeable. Apply some clear adhesive then carefully position the patch. If you cannot find matching fabric in the kit, you can extract a piece of excess material from the furniture's underside or cushion.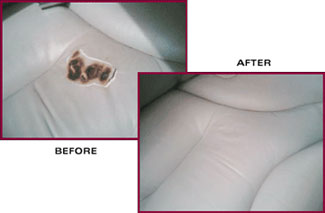 Leather upholstery repair can also be carried out quite readily. Leather, being relatively expensive, should be handled with optimal care to avoid irreparable damages. The DIY kit used in repairing leather upholstery contains an adhesive filler, coloring compound and a sub-patch. Start with trimming the torn area with scissors to get rid of any charred material. Insert the patch under the tear. Use adhesive filler to seal the area. Finally, mix the liquid with coloring compound until it matches the leather and apply it over the patch.
Upholstery repair involving dining room chairs is best done by first removing the cushions from the frame. In most cases, cushions are attached to the chair frames using wood screws. These screws are easily removable whenever necessary. The fabric upholstery that covers the cushion is normally fixed using furniture tacks or staples. Remove the tacks/staples and do away with the old fabric. Measure and cut new upholstery material and cover the cushions. With that, your dining room will have acquired a new look without denting your bank account.
These are just some of the methods that you can use to carry out upholstery repairs around your house. They all carry the advantage of being budget friendly yet will maintain the neat look of your furniture. However, should you be dealing with extensive damages, it is advisable to call in an expert to ensure that your furniture is successfully restored.
Here's What You Can Do with an Upholstery Repair Kit